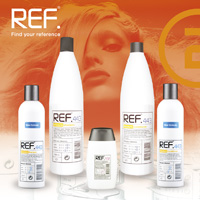 REF
MOISTURE & CARE
Haircare Treatments
---
New professional E-COMMERCE
complete rehydration deep
It is a program of complete rehydration and deep, time to return the balance to the hydro- protein dry and damaged hair, giving a smooth, shiny and healthy. The numerical indexes make it easy to use.
MOISTURE SHAMPOO 443
Shampoo with silk proteins, with deep moisturizing effect and visible. Ideal for cleaning all types of hair stressed by pollution, frequent washing and weathering acting on fluid balance. Its heady fragrance of green apple.
packaging: bottles of 250 and 1000 ml.
MOISTURE CONDITIONER 443
Conditions and repairs dry and brittle hair leaving it with a natural moisture. Excellent for hair of medium thickness, improves the workability and untangling.
packaging: bottles of 250 and 1000 ml.
LEAVE IN TREATMENT 532
Treatment with silk proteins ideal for very dehydrated hair. Regenerate and eliminates frizz giving an immediate vitality to the hair.
Package : Bottle of 75 ml.